Hong Kong Travel
Hong Kong, a place where "the west and east meet", is located in the southern shore of China. Being the colony of British Empire after the First Opium War in 1840, Hong Kong was under the administration of the Great Britain before the handover of power to People's Republic of China in 1997. Hence Hong Kong is a region which assimilates the wisdom of ethnic Chinese and the advanced western economic and political system.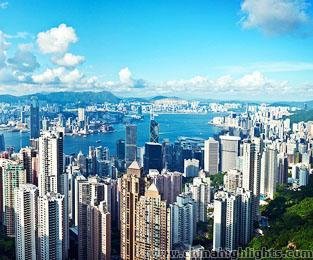 Acknowledged for its clean government, good public order, free economic system and developed law system, Hong Kong is one of the safest, wealthiest and most prosperous regions in the world. Hong Kong is an important world financial centre with highly developed financial industry, service sector and shipping industry. It is one of the most competitive economic entities with economic freedom in the world. Beside plays an important role in world economy, Hong Kong is also rich in tourism resources.
The history of Hong Kong can be dated back to Qin Dynasty. After the reunion of China, the First Emperor of Qin Dynasty sent troops to construct the north. Hong Kong was a part of Nan Hai County (South Sea County) and was under the jurisdiction of central government. In 331 A.D., Hong Kong was administrated by the Dong Guan Prefecture. In Song Dynasty and Yuan Dynasty, inland residents (mainly Guangdong residents) moved to the island. It was a part of Xin'an County of Guangzhou Prefecture until the signing of Treaty of Nanking in1842. In 1860, Kowloon Peninsula was incorporated into the Hong Kong colony after the Second Opium War. In 1894, the boundary of Hong Kong colony was extended to New Territories. The control of Hong Kong was shifted twice until handover to the People's Republic of China under the policy of "one country, two systems". Hong Kong became a special administrative region of PRC in July 1st, 1997.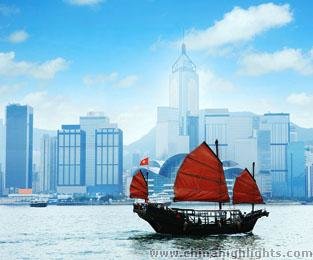 Hong Kong has a subtropical climate. The annual average temperature is 22.8 ℃. Summer in Hong Kong is hot and damp with a temperature around 26 ℃ to 30 ℃. Rainfalls and typhoons concentrate in summer with an average annual precipitation of 2,214.3 mm. Winter is cool and the temperature seldom falls below 5 ℃. The best time of visiting Hong Kong is October to March of next year. Autumn is mild. You can just wear a shirt or a sweater and promenade by the Victoria Harbour or the Lamma Island. Winter is the best time for shopping. If you choose to visit Hong Kong this time, a sweater and a coat will keep you warm enough. Winter is a discount season. Hong Kong becomes a real "paradise of shopping" at this time of year. Nothing will discourage shoppers from navigating themselves among shops in places like, Tsim Sha Tsui, Mong Kok, Causeway Bay, etc.
Hong Kong is needy for natural resource due to topographic limitations. About 60% of drinking water is supplied by Guangdong. Hong Kong Island is next to the continental shelf of the Pacific Ocean. A number of isles dot on the vast sea. This is a favorable condition of being a fishery base. Agricultural products on the island include vegetable, flower, fruit, rice, etc. But home grown products are far from enough. Half of the daily agricultural products are supplied by mainland.
As regard to tourism, Hong Kong is a paradise. There are a lot of activities and dim sum (snack) you need to try.
Hong Kong Disneyland is the fifth Disneyland in the world and it is one of the hottest attractions in Hong Kong.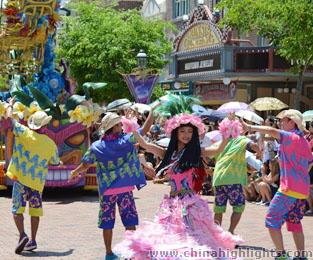 Entertaining facilities in Disneyland are varied and interesting. It makes many people's childhood dream come true. The Town Street, U.S.A. duplicates a 19th century American town. The City Hall is the service centre of Disneyland where you can exchange currencies, reserve a restaurant and buy some tour guide map. You can hop in a wood raft to the Adventure Land, cross the city moat to see the sleeping beauty in the castle or take a rocket to Space Mountain in the Epcot. If you are energetic enough, you can join the Disneyland character parade and see the firework show at night.
Avenue of Stars, a brand new attraction located in Waterfront Promenade in Tsim Sha Tsui, displays the one-hundred-year history of Hong Kong movie industry. Plaques engraved with complimentary descriptions of some celebrities stand along the avenue. Some of those plaques even have the handprint of the celebrities. When walking along on the Avenue of Stars, you can enjoy the stunning view of the Victoria Harbour and the whole busy metropolis. When the sky gets dark, the musical light show A Symphony of Light will be performed in the Victoria Harbour. You can get a good perspective to the show in Avenue of Stars.
The Ocean Park, a place where you can reply to the call from the mysterious area, is located in Wong Chuk Hang in south Hong Kong. It is once the largest amusement park in Southeast Asia. If you visit the Ocean Park, cable car is recommended because it can take you to the most famous spots in the park, the Pacific Shore, Seaquarium, Shark Aquarium, the 72 meters high Ocean Park Tower and the Raging River.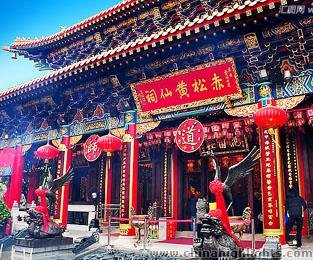 Wong Tai Sin Temple is one of the best-known temples in Hong Kong. Wong Tai Sin is a Chinese deity granted the power of healing. His name literally translates to the "Great Immortal Wong". It is said that the Wong Tai Sin enshrined in the temple has the supernatural power to "grant whatever is required". Wong Tai Sin Temple is the only place that can hold a Taoist wedding.
Repulse Bay was named after a British navy ship. It is a seaside resort and a settlement of many rich people with numerous beach villas along the shore. The Victoria Peak is famous for its view of night scene. The small town, Stanley, is next to Repulse Bay. Backgrounded by the clear sky, Stanley allures over 1.6 million tourists each year with its relax way of life, beautiful beach, exotic gastronomy and some local ancient building. Lamma Island, once inhabited by several remote fishing villages, is now the most popular place among young people and foreign residents. Lamma Island is the third largest island in Hong Kong. The island is hilly and covered by thick subtropical trees.
One important thing to do is try some local dim sums (for better pronounce when you try to order some dim sums, the names of the dim sum will be written in Jyutping). Har gow, the shrimp dumpling, is arguably the king of dim sum. It is the dish against which a dim sum restaurant is weighed. Har gow is made of wrapper inside which is shrimp filling mixed with finely chopped bamboo shoots for a crunchy dimension. Siu mai, or Steamed Pork Dumpling, is also another important dim sum. The invention of Siu mai, which means takeaway snack, can be dated back to Yuan Dynasty (1206 A.D. – 1368 A.D.). It was first made in a place now known as Hohhot (in Inner Mongolia). Now every province has its own variant of siu mai. The most popular siu mai in Hongkong is the Cantonese siu mai. It is made with chopped steamed pork, topped with shrimp and roe and cupped in a wheat wrapper. Dip it into soy sauce and take a bite, then you will know how fabulous it is. Cha siu bao, or steamed bun stuffed with roast pork, is a kind of white buns steamed in a bamboo basket. Quality of a cha siu bao largely depends on toasted pork which was cooked with special sauce. The flour should be will fermented before making into a cha siu bao wrapper to guarantee the softness.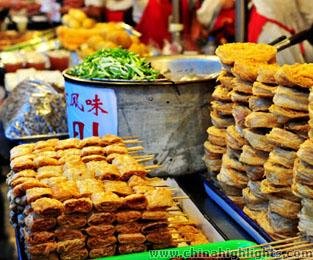 The highly developed public transportation system help tourist to go to anywhere they want in Hong Kong. A good thing for foreign traveler is, English is widely spoken as an official language in Hong Kong. The recent anti civic education demonstration showed that Hong Kong will still be able to maintain a separative political system which is important to the freedom in economy and other aspects. Hong Kong will continue to be a stable and prosperous region in the world.