Kunming Travel
Kunming is the capital city of Yunnan Province. Being one of the first batch of National Famous Historical and Cultural Cities of China, Kunming is the largest city in Yunnan Province and the forth largest city in western China.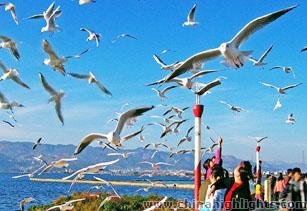 As the political, economic, cultural, technology and traffic centre of Yunnan Province, Kunming is also an important tourism city, commercial district and the gate to Southeast Asia. It is also home to some key universities, museums, galleries and other important economic cultural and educational institutions. Jurisdiction of Kunming covers six districts, four counties, three autonomous counties and one affiliated city. The city has a population of 7.3 millions, 6.5 millions of which are permanent resident population.
Although the origination of the name Kunming is difficult to verify, Kunming indeed has a long and glory history. Trace of resident can be tracked back to about 30 millions years ago. But the civilization appeared at about 3000 years ago. During the Warring State Period and East Han Dynasty, the Dian State was established by the residents. Then this region began the reaction of the special "Dian Civilization". In 109 B.C., Dian State was incorporated into Yizhou County as part of the China Empire. In 765 A.D., Nanzhao Kingdom (a slavery regime founded by minority nationalities that lived in the southwest China in Tang Dynasty whose territory covered the whole Yunnan Province, part of Guizhou, Sichuan, Tibet, Vietnam and Myanmar) expanded to the east. The construction of Kunming began. In Ming Dynasty, a lot of ethnic Han nationality moved into Yunnan. The number of Han people began to outnumber the minority people. In 1911, reign of Qing Dynasty in Yunnan was overthrown by the "Double Nine Uprising". After the civil war, history of Kunming opened a new chapter.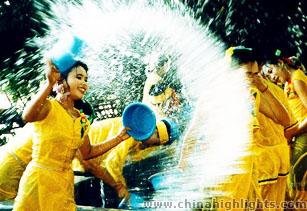 Kunming is located in low latitude. It has a tropical monsoon climate. Under the influence of the warm and damp air from Indian Ocean, the temperature of Kunming is mild. With an average annual temperature of 15 ℃, summer in Kunming is not hot while winter is not cold. Kunming is acknowledged as "city of spring" for the warm weather and having the lowest temperature difference in China. The highest temperature in record is 31.2 ℃ while the lowest is -7.8 ℃. The appropriate temperature and humidity, long duration of sunshine and short frost season make flower a perennial element of the city. The best time for visiting Kunming span between March to October. Sakura in Yuan Tong Mountain will be in full bloom during March to April. Red Dirt Land in Dong Chuan will be at its best look in March, May, September and November. The Water-sprinkling Festival in Minority Groups Village will be held on 13th of April. In autumn, avenue of gingko in Yunnan University turns yellow and in Cui Lake, black-headed gulls have migrated to the lake side. They will settle down till the winter ends.
Beautiful natural landscape, splendid history, interesting ethnic customs make Kunming one of the ten hottest tourism city in China. There are over 200 preserved relics in Kunming.
The Stone Forest World Geopark is one of the most famous. The Stone Forest consists of numerous weatherworn stone pillars which are standing in different poses.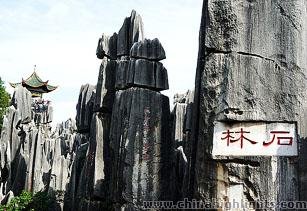 When you are walking inside the Stone Forest, a scene consists of stones of different shapes, the singing birds, thriving trees and clear ponds will bring into a wonderland. The Stone Forest covers an area of over 350 square kilometers. About one hundreds groves of stones inside the scenic zone draw tremendous amount of tourists from all over the world.
Cui Lake is situated in the west foot of Wu Hua Mountain. There are nine fountains in the lake. So it is also called "Nine Dragon Pool". The lake is separated into four parts by two crossing dykes. Willows were planted along the lake. Colorful fish and lotus complement the still lake. Pavilions, zigzag bridges and corridors were built on the lake. In winter, thousands of black-headed gulls come to Cui Lake for favorable condition of the lake and the warm weather of Kunming.
Kunming World Horticulture Exposition Garden is characteristic scenic zone. There are numerous gardening artworks thoughtfully placed according to topography of garden. These magnificent pieces are from 95 different countries. The Kunming World Horticulture Exposition Garden consists of five parts, International Pavilion, China Pavilion, Human and Nature Pavilion, Technology Pavilion and Green House. 2 billions plants of 2,551 kinds, 112 of which are rare kinds, are exhibited in the garden.
Red Dirt Land in Dong Chuan (Dong Chuan Hong Tu Di in pinyin) is the most typical and distinctive red dirt land in the Red Dirt Plateau and one of the second most magnificent red dirt lands in the world, the first being the red dirt land in Rio. Red Dirt Land in Dong Chuan will be best look when the red dirt land is sandwiching with green crops fields. It is a "color palette dropped by God".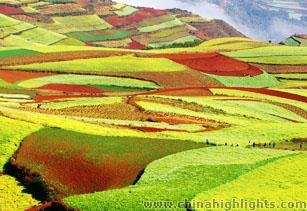 Kunming is a city inhabited by 26 ethnic groups. Han, Yi, Hui, Bai, Miao, Hani, Zhuang, Dai, Lisu, many of these minority groups have their own settlement. During the long history of development, they fused with each other but preserved their culture, art, tradition, folk custom and unique way of living. One noticeable aspect is that they retain their festival. The Torch Festival of Yi nationality, the Third Month Fair of Bai nationality, the Water-sprinkling Festival of Dai people, the Knife-ladder Climbing Festival of Lisu people, they all contribute to the diversity of culture in Kunming.
There are many noteworthy local products in Kunming. Pu'er tea and camellia flower tea can not be neglected by tea lovers. Pu'er is processed with specific tea leaves. It can be further categorized in to baked Pu'er and raw Pu'er. They are of different flavor. The processed products will still be self-maturing. The longer they are kept, the better they will taste. Batik is a popular handicraft. The batik in Kunming was invented by Yunnan minority groups. It carried many local characteristic. Wood engraving is favored by tourists. It is made of precious wood material processed by exquisite workmanship. Other products include tin handicrafts, ivory carving, cross-stitch work, etc.
Kunming is one of the most important transportation hubs in western China. It is a National First Class City and a portal to the Southeast Asia. Kunming Changshui International Airport, the biggest monomer building and the forth biggest portal airport, began to operate in 28th June, 2012. It is the confluence of many important railway lines, for example, Shanghai – Kunming line, Chengdu – Kunming line, Nanning – Kunming line, Neijiang – Kunming line, etc. There are five important bus stations in Kunming, the Eastern, the Western Bus Station, the Southern Bus Station, the Northern Bus Station and the Northwestern Bus Station. Kunming is connected to the peripheral cities and provinces with 10000 kilometers of incity road and many highways, for example, Beijing – Kunming highway, Shanghai – Kunming highway, Shantou – Kunming highway, Guangzhou – Kunming highway, Chongqing – Kunming highway, etc.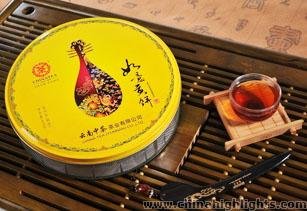 After the reform and open up policy was implemented, economy of Kunming has grown rapidly. The comprehensive economic strength of Kunming has been cinluded among other advanced cities. After years of development, cigarette industry, machinery industry, biological resource industry, IT and tourism have been structuring into the five cornerstone industries that drive Kunming's economy. Taking the advantage of its location, Kunming became the intersection of the China-ASEAN Free Trade Area and Mekong Regional Economic Cooperation Area. It is now in a better position to welcome tourists from all over the world.